Meet the hardest-working executive team of closet essentials in your wardrobe for work, no matter what you do. Like any good executive team, they all work well together to make you look good. From a classic white blazer to a trending smocked top it only takes a short checklist of 8 intentionally chosen versatile pieces to get you ready for work. Hustle sold separately. It's totally worth investing in your "business" wardrobe. When you're off duty, all 8 closet essentials on my 2023 Work Wardrobe Checklist can do double duty as part of a casual outfit. See some mix-and-match casual outfit ideas you can use anytime that start with a few high-low versions of this capsule wardrobe HERE.
MEET THE EXECUTIVE TEAM
EXECUTIVE ASSISTANTS | SHOES & ACCESSORIES FOR WORK



THE 8 HARDEST WORKING PIECES IN YOUR WORK WARDROBE
1. White Blazer
If you're a working woman or just working a room, I recommend a white blazer to everyone. This one is my favorite year-round pick. It's the perfect shade of white. It works well with jeans and a t-shirt or over a dress. See three ways I wore here on Instagram then recreate the extra outfit combinations. For this work capsule wardrobe, you can use a bright white or ivory blazer. The most versatile styles are tailored and double-breasted or a little longer one-button style. These are the best high-low options for your budget that are available now.
Beautiful Benchmark White Blazers

$100-$150

Budget Blazers

Get a closer look at these two styles from Amazon for under $60 here on Instagram.
2. Bold Blazer
You will always get more bang for your buck when you add a blazer. Blazers are the fastest way to elevate simple outfits, even jeans, and a t-shirt. A bold blazer like this doesn't have to be a big investment. Consider a fun new solid color, like neon, or a classic check pattern. A blazer that matches your personal style will help give your work capsule a distinctive look that doesn't look like everyone else.
Solid Colors Blazers $$$-$ at Nordstrom

Pattern Blazers

3. Straight Leg Pants
Straight-leg pants are so easy to style because they will go with all of your work shoes from flats to high heels. Black or white jeans with a finished hem are often dressy enough for business or business casual outfit combinations. Find the best fit for your body with my FREE jean quiz or shop some of my best-selling styles here.

4. Flare Leg Pants
There are plenty of denim options in this flare-leg silhouette, but a pull-on style like these from Spanx looks a little dressier. A crop style shows off your shoes and works well this spring and summer. A longer length works in this capsule too. The idea is to have two different pant silhouettes that go with all the same things but look totally different.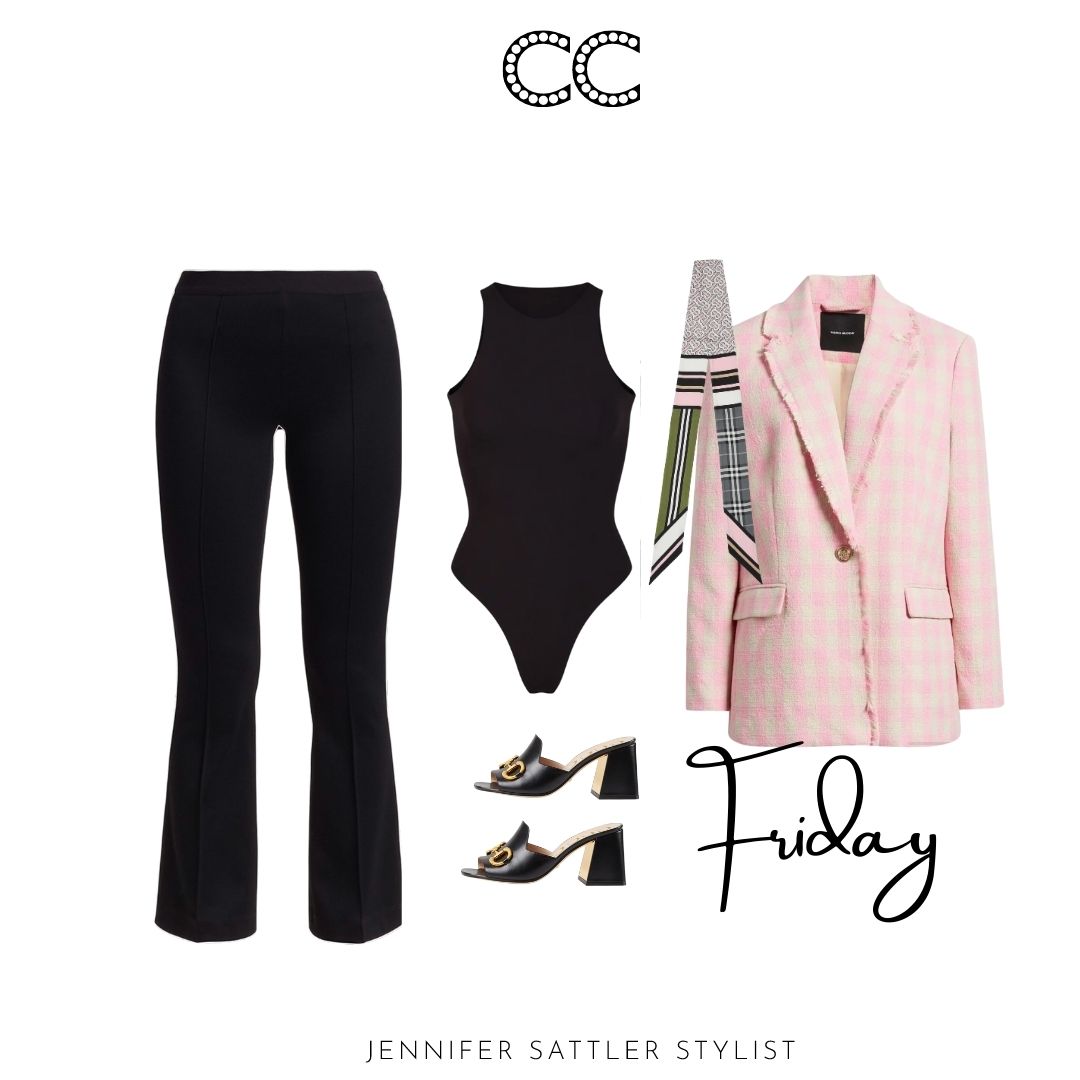 Classic Quality Cropped Black Pants

Flattering White Flare Leg Pants

5. Bodysuit
A bodysuit like this can be so flattering and feminine. For work, I suggest a higher neck style. Wear a black bodysuit with black pants for a slimming monochromatic base under the bold blazer. Try a black bodysuit back to bright white bottoms and a white blazer for a color-blocked look.

This ATM style is subtly ribbed and buttery soft, SKIMS makes a smoothing softy black, and Express does a great job for under $50.
Styling Hack
Styling Hack – Turn your bodysuit upside down and wear it as a one-shoulder top. Just tie a skinny scarf over the snaps.
6. Dressy White T-Shirt
An arsenal of white tops could easily be all you need to get dressed each day. For this work wardrobe, I'm suggesting a dressy white t-shirt. Imagine your favorite little white tee and pretty blouse got together and made a baby. The styles I chose for this capsule stand alone or work well layered.
Dressy White T-Shirts Under $75

Over Achievers

7. Smock Top
A smock top will give this capsule a current vibe. Choose a style that works best for your body. If you are busty and short-waisted, then a v-neck or long-sleeve style will look the best. If you are tiny on top or have a small waist, you can wear tops with more smocking in the middle or with a higher neckline. You can mix prints, like Emily in Paris, and wear a pattern smock top with your bold blazer or keep your look monochromatic.
Smocked Styles Under $100

This $22 square neck style from Amazon can be worn off the shoulders after hours and comes in 7 colors.
My Printed Picks Under $100

Styling Hack
You can make a fit-and-flare dress look like a skirt and top when you wear a fitted smock top over it. I shared a similar styling hack using a classic shirt dress in my 2022 Minimalistic Work Capsule Wardrobe. See more ideas of what to wear every day of the week.
8. Fit and Flare Dress
The shape of this dress makes it one of the hardest-working team members in this roundup. Ideally, the perfect top and skirt merge in this all-in-one style staple you can wear comfortably day or night.
Styling Tip – Avoid losing your shape and looking frumpy when you wear a dress like this with an oversized blazer. Either keep the look monochromatic, wear the blazer open, or belt it at your empire waist.
2023 Fit & Flare Dress Favorites

Black and white are both equally versatile in this capsule. You might want one of each.
WHAT TO WEAR TO WORK LOOKBOOK