After 20+ years as a personal stylist, this is still my favorite outfit. Outfits with jeans and a white top work anytime. Try these combinations now and you'll be in love with them forever.
Jen's 4 Favorite Outfits With Jeans and a White Top this Summer
1| White Crochet Top and Flare Jeans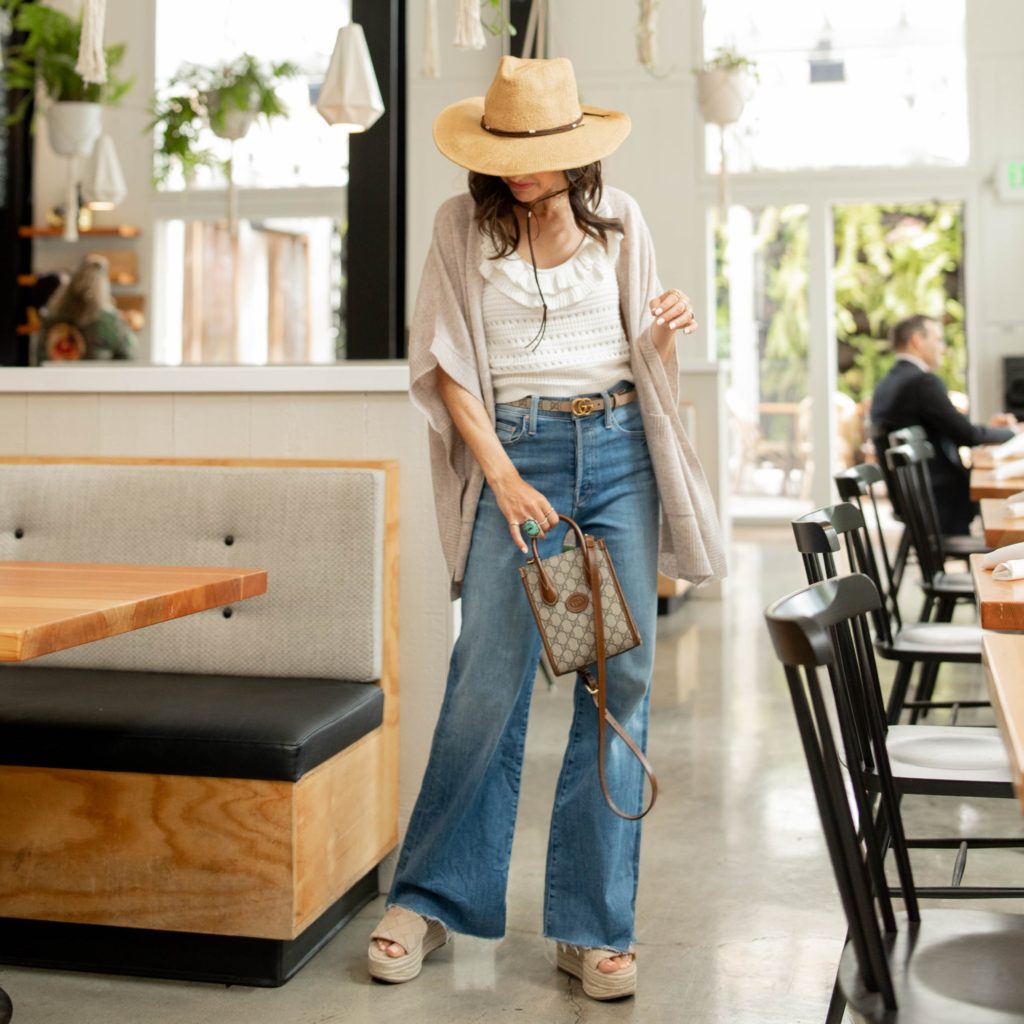 One of the most fashionable outfits with jeans right now is a crochet top and '70's inspired accessories. This is just one of the fashionable new outfits you can make with the pieces in my Summer Capsule Wardrobe.
Shop the Look
These are my personal picks for quality. All three brands do a good job of making classic styles that fit well.
Bonus Stylist Tip– Consider the matching Vince Cardigan and crochet tank together. Both are great investments and do #doubleduty. I suggest the cardigan to clients who are looking for a lightweight layering piece to cover their arms in the summer.
Under $75
If you're looking for more coverage toss a wrap over your arms or try this style from Open Edit. It comes in plus size too.
2 | White Oversized Button Up and Beachy Jeans
Both of these pieces were part of my Sunny Vacation Outfit Essentials post. Like most of the pieces I pick for you, they also do #doubleduty. Wear them to the beach or a BBQ this summer.
All of these oversized button-ups come in more colors.
Pink is Popular
Pistola
Designed in California, it's no wonder Pistola denim is a popular choice for that relaxed beachy look.
3 | White Eyelet Lace Blouse and Wide-Leg Jeans
Year after year you'll love these lace tops. They are so pretty yet such a simple outfit with wide-leg jeans.
Bonus Stylist Tip- Try a colored lace top with white jeans for a new spin on this classic combo.
Eyelet Lace Tops Under $100
4 | Classic White Crew and Crop Flare Jeans
JEN'S TOP TOP PICKS
ATM makes a great quality Peruvian cotton jersey tee that stands the test of time. If you want the look for less this style from the Banana Republic is often on sale for less than $20.
These are more of my go-to T's for a crew neck. They all fit great and kiss not cling to the body.
Jen's Best Bet for Bottoms
These are by far my favorite crop flare styles. I have them both in multiple washes. First is the Mother "Insider Crop" . The Mother "Insider" is just an inch longer. If you have long legs try the "Claudine" from Paige. Equally as fabulous is Frame's "Le Cropped Mini Boot".
Oversized and Lightweight Options
If you tend to run warm but love the way a 3rd piece pulls together your jeans and t-shirt, try these. This Blazers for More Than Just Jean Outfits
Double-breasted blazers with a nipped waist go over more than just your jeans. These styling staples are worth the investment. The navy is forever, but they come in other classic colors you may want too.